The Guinness Book of Records is renowned the world over as the book that contains the collection of world records. In fact, the Guinness Book of Records is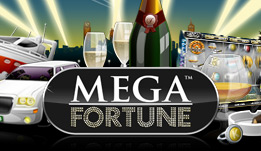 itself a record holder, as the best selling copyrighted book series of all time. The Guinness Book of Records has become the primary international authority on the cataloguing and verification of world records to date.
Online gambling has just added one additional entry into the famous archives of the book. In late September, one extremely lucky punter won Euro11,736,228 while playing the
Mega Fortune
slot machine. The
Mega Fortune
slot machine is a five-reel, 25-pay line slot machine that participates in a progressive jackpot and this is how the Euro11.7 million jackpot was won.
The progressive jackpot that was activated pools the money in from several of Europes largest online casinos and has paid out more than Euro 26 million in cash prizes since it's inception in 2008. The September haul was not the progressive jackpots first multi-million euro prize either. In February of the same year another lucky punter won Euro 5.3 million in the same manner, an amount that looks relatively amoeba like against the new world record of Euro11.7 million.
Progressive jackpots used to belong to single entity machines and a portion of a players bet would be siphoned off into a separate prize pool. In recent years casinos have linked together networks of machines to increase the prize pool potential and it is how records like this can be set.
Play Mega Fortune Slot at
Casino Luck